New Topic: Pattullo Bridge Consultation
The City of New Westminster, the City of Surrey and TransLink are working together to review and evaluate alternatives to rehabilitate or replace the Pattullo Bridge and to determine a preferred alternative that meets the needs of communities connected by the bridge, as well as the broader region served by the bridge.
The Pattullo Bridge Review follows previous technical and consultation work and responds to feedback requesting additional information and evaluation of all practical alternatives to replace the bridge.
Aging Bridge
The review team will work together to address key challenges including:
The bridge structure and foundation are 76 years old and many components have surpassed their useful lives
The bridge is vulnerable to damage from even a moderate earthquake or ship collision and does not meet current seismic standards
The bridge does not meet current roadway guidelines, including lane widths and curvature, which creates safety and reliability issues
Bridge facilities, such as sidewalks and barriers, and connections for pedestrians and cyclists, are inadequate and do not provide separation from traffic
Traffic (including trucks) affects the liveability of adjacent communities due to air quality, noise and resulting health impacts, as well as neighbourhood traffic infiltration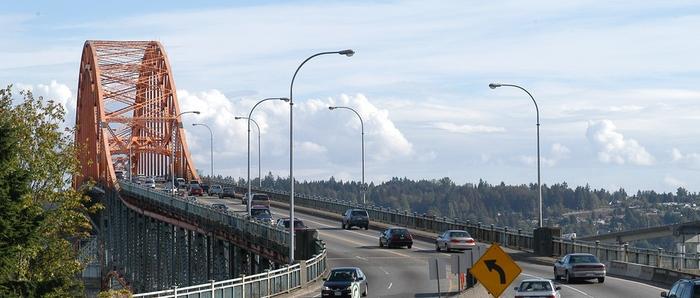 Consultation Underway: June 3-28, 2013 – Get Involved!
New Westminster, Surrey and TransLink are consulting with local residents and businesses, local and regional stakeholders, and bridge users about the:
Problem Statement of the Pattullo Bridge Review
Objectives for rehabilitating or replacing the bridge
Initial screening of the alternatives for rehabilitating or replacing the bridge
You can learn more and provide feedback by visiting the PlaceSpeak topic page at www.placespeak.com/PattulloBridgeReview