New Topic: Building a Sustainable and Prosperous Waterfront
The Georgia Strait Alliance has launched a new topic on PlaceSpeak.  Here is brief description:
Vancouver's waterfront is a special place in our community. It's the place where land, city and water meet. It's the place that we are drawn to—to play on the water and beaches, to live near the shore, to work, to travel around, to protect and enjoy nature.
But we cannot take it for granted. Our shoreline shows the stresses of increasing urban densification; rising sea levels and other effects of climate change, along with increasing competition between waterfront users, pose serious challenges that need to be addressed. New solutions are required to meet the needs of industry, housing and recreation while protecting the natural ecology of the area, in particular for the at risk species that call it home.
Georgia Strait Alliance's Waterfront Initiative is a collaborative effort to build a vision for a sustainable and prosperous urban shoreline in Vancouver and to develop an action plan to make this vision a reality. We are inviting all those with an interest in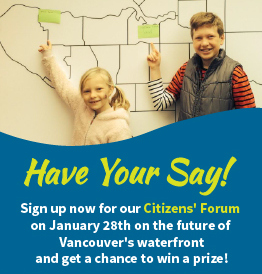 the future of the city's waterfront to work together—First Nations and all other levels of government, businesses, civil society, and citizens.
The Waterfront Initiative is building a shoreline for all. And we want you to be part of it. Join the conversation on PlaceSpeak and sign up for our Citizens' Forum on January 28th, (6-9pm), at Creekside Community Centre. Registration is required! We ask all participants to please RSVP here.