Nanaimo Transportation Master Plan
The City of Nanaimo recently began working on its first long-term Transportation Master Plan.  Transportation touches every part of resident's daily lives, affecting how people move, how food, goods and services reach residents, how you access employment, household budgets,  housing choices, how the City looks and feels, and how citizens interact.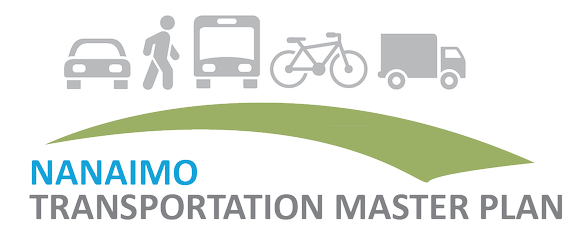 The Plan
As Nanaimo approaches 100,000 people, these issues will become more complex and more important, requiring an overall plan for transportation moving into the future. The Nanaimo Transportation Master Plan (NTMP) will guide transportation decision-making in the City over the next 25 years and beyond. It will recommend improvements for all modes of transportation, including walking, cycling, public transit, goods movement, and vehicles.   This process is important to ensure that transportation investments work towards achieving the City's strategic goals, make the best use of our tax dollars and help shift towards a more sustainable future.
Public Input
Over the course of the Nanaimo Transportation Master Plan process, there will be a number of opportunities to provide input, including online surveys, open houses, and workshops. Over the past year the City has been preparing for the start of the NTMP.  Last summer, the City undertook a pre-plan consultation process to develop awareness about the Nanaimo Transportation Master Plan and to collect early feedback on transportation issues and opportunities. Key issues that emerged during this earlier process included transit service, pedestrian and cycling infrastructure, rail and ferry transport, land use and transportation integration, traffic calming, and environmental quality. In addition, the City has been assembling information on our current travel patterns through a series of traffic, travel and transit surveys. Information from these processes, along with public consultation this fall, will inform the NTMP process moving forward.
The current rounds of consultations, occurring during October and November 2012, will help the City further prioritize transportation issues and opportunities in Nanaimo. Upcoming activities include:
Survey #1 – Transportation Issues and Opportunities
PlaceSpeak is hosting an online survey to help the City further prioritize transportation issues and opportunities in Nanaimo. Interested residents have been asked to complete the survey by Friday, November 16, 2012.  It should take less than 10 minutes to complete.
Click HERE and then on the Survey tab to complete the survey.
Open House #1 – Transportation Issues and Opportunities
October 30, 2011 (4:00 – 8:00)
Wellington Secondary School, 3135 Mexicana Road
For more information, visit the PlaceSpeak topic page and click on the Events tab.
Related Studies
The NTMP is being developed in parallel with the Nanaimo Transit Future Plan being prepared by BC Transit and the Regional District of Nanaimo (RDN).  The Transit Future Plan is a separate process to develop 25-year plan for transit services throughout the Regional District of Nanaimo, including the City of Nanaimo, and is an update to the 2008 RDN Transit Business Plan.  It will envision what the RDN transit network should look like 25 years from now and describes what services, infrastructure and investments are needed to get there. The updated plan will be designed to support local community goals and objectives, such as strengthening the link between transportation and land use in order to support sustainable growth.
For more information about the Transit Future Plan, please visit BC Transit's website at:www.transitbc.com/transitfuture/rdn_latestupdates.cfm
For More Information
Please visit this webpage and the City's Transportation Master Plan website at: www.nanaimo.ca/goto/transportationplan for updates throughout the course of the study.  Updates will also be provided via the City's Facebook page and Twitter feed.

City of Nanaimo – Engineering
Phone: 250.755.4409
Email: [email protected]