Fort St. John want to "Talk Site C" on PlaceSpeak
The city of Fort St. John has launched its "Let's Talk Site C" campaign, which will include public consultation over the next couple of months through talks in the park with city council, and dialogue on a website. At the centre is a community survey located on PlaceSpeak where residents can find information, view videos, and participate in discussions about protecting the best interests of our city.
About Site C
British Columbia Hydro and Power Authority (BC Hydro) is proposing the Site C Clean Energy Project (Site C).  If approved, Site C will be the third dam and hydroelectric generating station on the Peace River. It will be located approximately 7 km from the City of Fort St John (City).
The City of Fort St. John will be the municipality most impacted by Site C. If the project is approved, it will not only have short-term impacts on the community during construction, it will alter future life in Fort St. John and the region.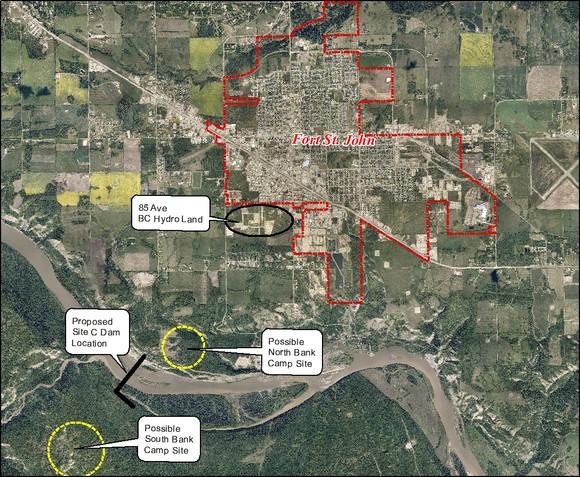 Fort St. John's Role
The City of Fort St. John neither supports nor opposes the proposed Site C project.
However, it is Mayor and Council's first priority to protect the interests of our community. Council will be developing a comprehensive statement of the community's objectives and interests, in the form of a position paper, to present to BC Hydro this fall. It is our intent that the paper will assist BC Hydro and the decision-makers to identify key areas of concern for the City.
Join the Discussion Today!
Fort St. John council is asking community members to help define and develop the interests and objectives to ensure they reflect the needs and desires of our community as a whole. We encourage you to review the community briefing paper called Let's Talk Site C. It is designed to give you background on the City's approach and a brief description of the objectives Council is considering requiring BC Hydro to meet if the proposed Site C project is approved.
You can view videos in the Gallery, in which Mayor Ackerman introduces the City's approach and briefly describes the objectives Council is suggesting.
Also, we hope you'll plan to attend upcoming Events to participate in community discussions and dialogue.
Finally, we ask you to add your views through the community Survey and join in the Discussion on this site.