Event: Housing Justice Dialogue #1 – February 20, 2013
The Housing Justice Project  one of our current topic proponents, is hosting an event on February 20, 2013.  The panel will include PlaceSpeak CEO Colleen Hardwick.  To learn more about the Housing Justice Initiative,visit the Housing Justice topic page.
Responses to Films Created by Young Artists on the Housing Crisis in Metro Vancouver
Screening of youth artist films on housing, followed by a panel discussion by national and local housing experts.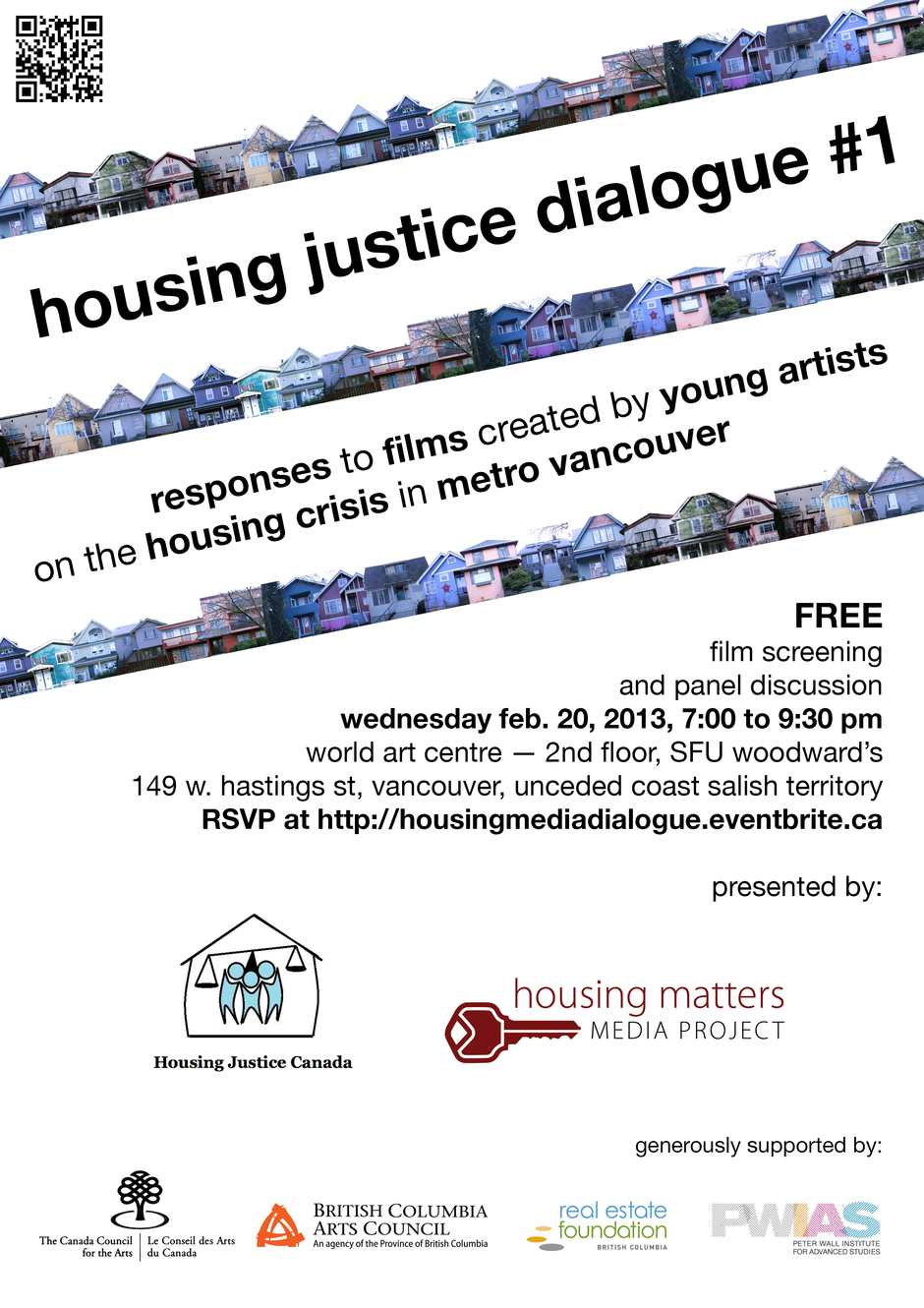 Details
Date: Wednesday February 20, 2013
Time: 7:00 – 9:30 pm
Location: World Art Centre – 2nd Floor, SFU Woodward's, 149 Hastings Street
RSVP at: http://housingmediadialogue.eventbrite.ca
Panel Participants
Michael Shapcott, Director, Housing and Innovation, Wellesley Institute, Toronto, Ontario
Matt Hern, Co-Director, Purple Thistle Centre and Urban Theorist
Colleen Hardwick, CEO, PlaceSpeak
Background
In the fall of 2012, the Housing Matters Media Project invited ten young emerging media artists to work in a community-engaged art project. This project explored within a community context issues relevant to Vancouver's housing crisis and to possible solutions for the problems of the unavailability of affordable, adequate, and accessible housing.
The aims of the Housing Matters project were twofold. First, the project focused on the production of a series of digital narratives that would provoke and invite the public to deepen understanding of the dimensions of the housing crisis as it affects youth.  The second, connected, aim is to inform and engage young media artists on issues of housing justice. The young artists worked with senior media artists and mentors in a two-week studio residency.  This studio time was preceded by a number of discussion and consultation sessions exploring the details of Vancouver's housing crisis.  The Housing Matters project has resulted in a remarkable collection of short films on housing by these youth artists. Come and see these films, followed by  a panel of local and national housing experts discussing the issues highlighted by these films.
This project partnered with the Housing Justice Project of the University of British Columbia.  Housing Justice is a three-year research project focused on to developing greater awareness of Vancouver's housing issues and on generating collective and effective models for the provision of affordable housing.