Cloverdale Covered Youth Park Consultation
PlaceSpeak is excited to announce our latest topic: The Cloverdale Covered Youth Park Consultation: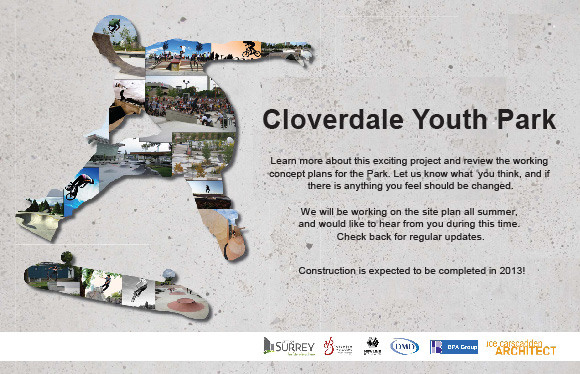 The City is Surrey is looking for ideas from the community regarding a new youth park in Cloverdale.
Project Overview
In 2010, the City of Surrey began construction of North America's first purpose-built covered youth park. When the Youth Park at Chuck Bailey Recreation Centre opened in 2011, it raised the bar for youth park design, function and amenity in the City of Surrey and Metro Vancouver. Based on the success of the Chuck Bailey park, the City has committed to building a second all-weather youth park.  On November 7, 2011 Surrey City Council directed staff to begin planning for a second covered youth park in Cloverdale, with a 2012/13 timeframe for design and construction.
The goal of this project is to build on the precedent set by the Youth Park at Chuck Bailey Recreation Centre by creating a bold and contemporary facility in Cloverdale. The City expects the majority of guidance for site design, programming and use to come from public input and the stakeholder consultation.  Activities to be considered in the design may include skateboarding, BMX, ball hockey, basketball, or others depending on stakeholder input, as well as some spectator nodes and casual outdoor space.
The City will be supported by a consulting team consisting of van der Zalm + Associates Landscape Architects, Bruce Carscadden Architects and New Line Skateparks.  We are seeking your input and feedback through the process of designing this new facility.
Project Site
The location of the new Cloverdale Youth Park with be at the North-East corner of 176th Street and 62 Avenue, on the north side of the Cloverdale Recreation Centre.  The location provides a central location in Cloverdale, with close proximity to residential neighbourhoods as well as the existing recreation centre.  The high visibility location will allow the design to address access and safety issues while providing the opportunity to establish a unique landmark.  The location is also connected to existing bike and pedestrian pathways, including a signalled crossing at 62 Ave, and is close to a bus stop on 176th Street.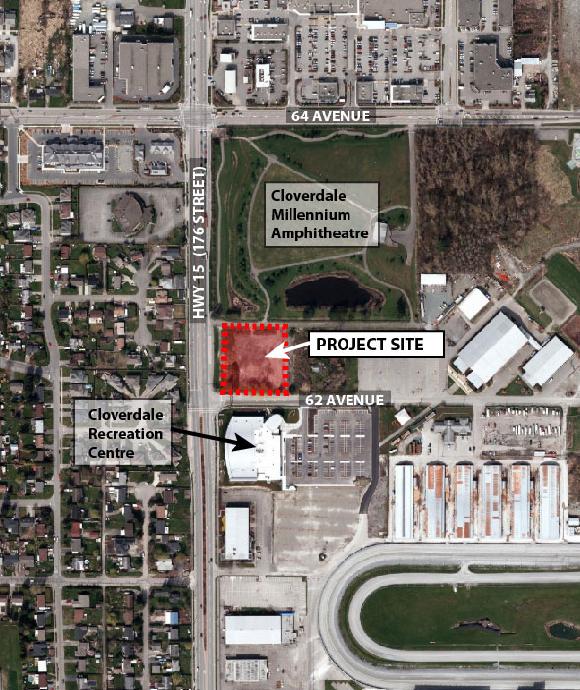 How to Participate
Online
Connect to the PlaceSpeak topic page: Cloverdale Covered Youth Park Consultation
Offline
Come to the next open house on Canada Day (July 1, 2012) between 10:00am and 4:00pm at the Cloverdale Millennium Amphitheatre, 64 Ave and 176 Street, Surrey BC.
Contact
Patrick Klassen, [email protected] | 604-501-5050