May 16th, 2013 in Topics
As a key tool in the Northern Rockies Regional Municipality's communication strategy for implementation of the Infrastructure Development Contribution Agreement (IDCA) and the public referendum that is scheduled for June 8, 2013, the NRRM has created a PlaceSpeak account.
NRRM Infrastructure Development Contribution Agreement Facts
The Infrastructure Development Contribution Agreement is the legal instrument for the Province to provide up to $10 million annually to the NRRM for infrastructure funding for 20 years, beginning in 2015 through 2035, contingent upon an overall capital expenditure and asset management plan of at least $20 million each year over the lifetime of the agreement.

The purpose of the agreement is to ensure that the NRRM`s community infrastructure is upgraded and expanded to facilitate the growth in BC's natural gas industry, and also future forestry and mining development.

Future infrastructure costs will be shared equitably between the Province and the Northern Rockies with the Province generally assuming growth related costs and the NRRM assuming non-growth related costs.

This partnership agreement between the Province and the NRRM will action both parties planning and investing in NRRM's infrastructure decision making – and will focus on proactive, long term and adaptive capital planning tied to industrial and community growth.

An Infrastructure Management Committee (two NRRM and two Provincial representatives) will be formed for the duration of the agreement. The role and function of the management committee is to review the rolling — one, five and twenty year Capital Plans submitted by the NRRM and to make a single recommendation to the respective Ministers for approvals which will trigger the annual Provincial grant.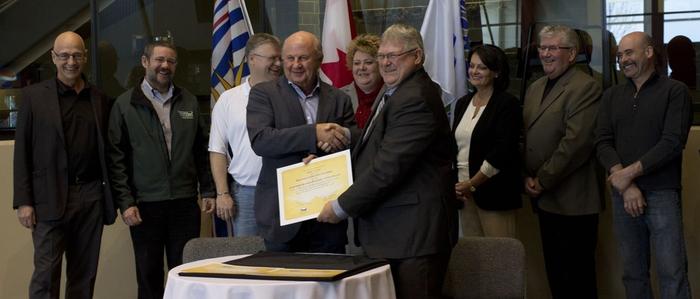 Tags:
British Columbia
,
Business
,
Decision making
,
Infrastructure
,
municipal
,
Northern Rockies
,
Northern Rockies Regional Municipality
,
PlaceSpeak
,
YouTube
No Comments
May 7th, 2013 in News
On APril 18, 2013, PlaceSpeak CEO, Colleen Hardwick was invited to speak at PWC Canada's 'Vison to Reality' (V2R) Conference in Toronto, Ontario.
V2R is PWC's premier event for emerging Canadian technology companies. Leading entrepreneurs and innovators—including Colleen—took the stage in a series of insightful and inspirational talks. The conference provided a great opportunity to forge new relationships and meet new potential business partners and fellow founders. This year's event also featured a keynote address by Stewart Butterfield, co-founder of Flickr.
Here is a video clip that was recorded during the event, focusing on women in technology, including Colleen:
Women continue to be underrepresented in the Canadian emerging technology industry. Colleen Hardwick, Founder of PlaceSpeak, and others who attended our V2R conference share their views on why they feel this is.
Tags:
Colleen Hardwick
,
Emerging technologies
,
Entrepreneur
,
PlaceSpeak
,
PWC
,
technology
,
Video
,
YouTube
No Comments
March 28th, 2013 in Events
Here is the video of the latest Warren Gill Memorial Lecture: "Is Public Space a Public Good?" by Mark Kingwell, presented on February 21, 2013 at SFU Woodward's.
Mark Kingwell, an author and critic, led the lecture, focusing on one question: Is public space a public good? Public space is routinely seen as the cure to every imaginable urban ill, from air quality to obesity. But how much of what we call public space is really public? Kingwell considered this problem, together with its implications for the notion of urban play and the so-called "right to the city." He concluded with some reflections on the relationship between the city and the university.
Mark Kingwell is an award-winning professor of philosophy at the University of Toronto and the author or co-author of 17 books of political, cultural, and aesthetic theory, including the national bestsellers Better Living (1998), The World We Want (2000), Concrete Reveries (2008), and Glenn Gould (2009).
A good synopsis of the lecture was posted on the Vancouver Public Space Network.
Tags:
Mark Kingwell
,
PlaceSpeak
,
Vancouver
,
Warren Gill
,
YouTube
No Comments
February 12th, 2013 in Public Consultation
Here is the latest in a series of excerpts from an article in Plan Canada, a quarterly magazine published by the Canadian Institute of Planners.  The article was written by PlaceSpeak associate Maureen Mendoaza.
PlaceSpeak Users: Engaging, Connecting and Influencing

Key to the value proposition for users is that their contributions are able to influence outcomes – to make the consultation connection to decision-makers real. This has been most exemplified in the consultation PlaceSpeak hosted for the City of New Westminster's Master Transportation Plan that included the redevelopment of the city's major transportation infrastructure, the Pattullo Bridge. Limiting users to the city's boundaries by segmenting it into fourteen neighbourhoods, the city hosted a survey on PlaceSpeak to gain insight into residents' sentiments around the bridge.

Over one thousand PlaceSpeak people viewed the consultation, and almost two hundred New Westminster residents connected to take the survey, giving the online survey a higher response rate than the in-person open house that had an attendance of about three hundred residents and only thirty survey responses. This demonstrated the ability of not only wider reach, but also greater participation. After the consultation, TransLink, Metro Vancouver's transit authority, agreed to work collaboratively with the City to explore alternative options for transit development.

These results were reported back to users on the platform. Consultations where citizens' voices are taken into account reiterate that their opinions not only matter, they can affect decisions. Because the consultation developed an online database of users in the city, New Westminster has since used PlaceSpeak for budget consultations and residents were notified and asked to participate again.

Jerry Behl, a transportation engineer for the City of New Westminster and key contact for the consultations affirmed the necessity to provide multiple ways for citizens to connect and was "surprised by the sheer number of people who logged on and took a look, we covered a lot of bases this way. We gave the people the option of turning up at an open house in the afternoon, in the evening, or coming on to PlaceSpeak."
You can read the entire article on Scribd.
For readers interested in learning more about the New Westminster Master Transportation Plan consultation, here is a short video overview:
Tags:
Canadian Institute of Planners
,
Jerry Behl
,
Maureen Mendoza
,
New Westminster
,
PlaceSpeak
,
Plan Canada
,
public participation
,
Scribd
,
Video
,
YouTube
No Comments
October 3rd, 2012 in Topics
TransLink—Metro Vancouver's regional transportation authority—is using PlaceSpeak's location-based community consultation platform to gather public input on their draft 2013 Base Plan and Outlook.  The 2013 Base Plan and Outlook outlines strategic initiatives, transportation programs and services that TransLink will deliver between 2013 and 2015 using existing revenue sources.
From September 20 to October 12, 2012, metro Vancouver residents can use PlaceSpeak to provide feedback on what's included TransLink's 2013 Base Plan and Outlook by going to the PlaceSpeak website, register and then click on the connect button to the online consultation.
http://www.placespeak.com/translinkbaseplan
"PlaceSpeak gives residences the information to learn and share their opinions about the TransLink 2013 Base Plan by completing this engaging online survey questionnaire," said Colleen Hardwick, President and CEO of PlaceSpeak.  "PlaceSpeak also provides effective online public consultation to help participants understand the goals of TransLink and assist in their decision-making process, which will help ensure their base plan can meet the needs of the general public while showing transparency."
About TransLink
TransLink is Metro Vancouver's regional transportation authority. The authority is responsible for regional transit, cycling, roads and commuting options, as well as AirCare and Intelligent Transportation System programs. Services are delivered through TransLink's operating companies, which include the Coast Mountain Bus Company and British Columbia Rapid Transit Company. TransLink also share responsibility for the Major Road Network (MRN) and regional cycling with their municipal partners in Metro Vancouver.
Tags:
Coast Mountain Bus Company
,
Colleen Hardwick
,
Metro Vancouver
,
PlaceSpeak
,
survey
,
TransLink
,
transportation
,
Transportation and Logistics
,
YouTube
No Comments